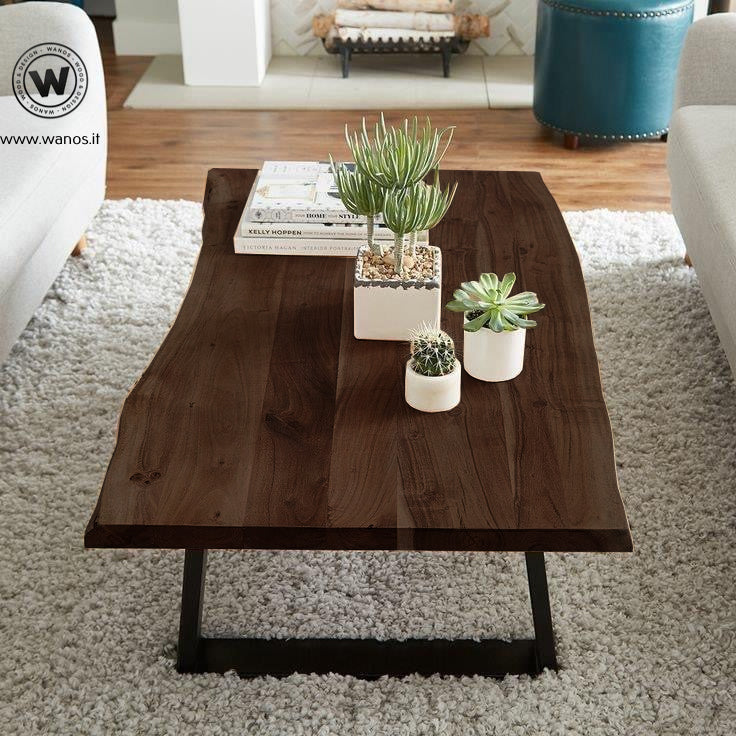 Design Coffee Table made with irregularly debarked solid chestnut wood top on a metal base
The table is a versatile and useful piece of furniture both from a decorative and practical point of view, we have created this "coffee table" with the beauty and elegance of chestnut.

Each trunk that we work by hand to transform it into a table always has a unique shape, because it is nature that decides which aspect to give it and we welcome its originality by enhancing its beauty.

The solid chestnut wood table is handcrafted using planks naturally seasoned for over 10 years with a thickness of 45-50 mm, metal size 80x20 mm.

The table is treated with protective, transparent, water-repellent and non-toxic varnishes, it is available in various sizes and it is possible to customize the color of the resin.

It is possible to make the coffee table in different sizes and colors of both wood and metal.

Being an artisan workshop we can create any custom-made accessory and customer request, just contact us by phone or by email at info@wanos.it.

Stand out with style and furnish your home in a unique and inimitable way by Wanos.