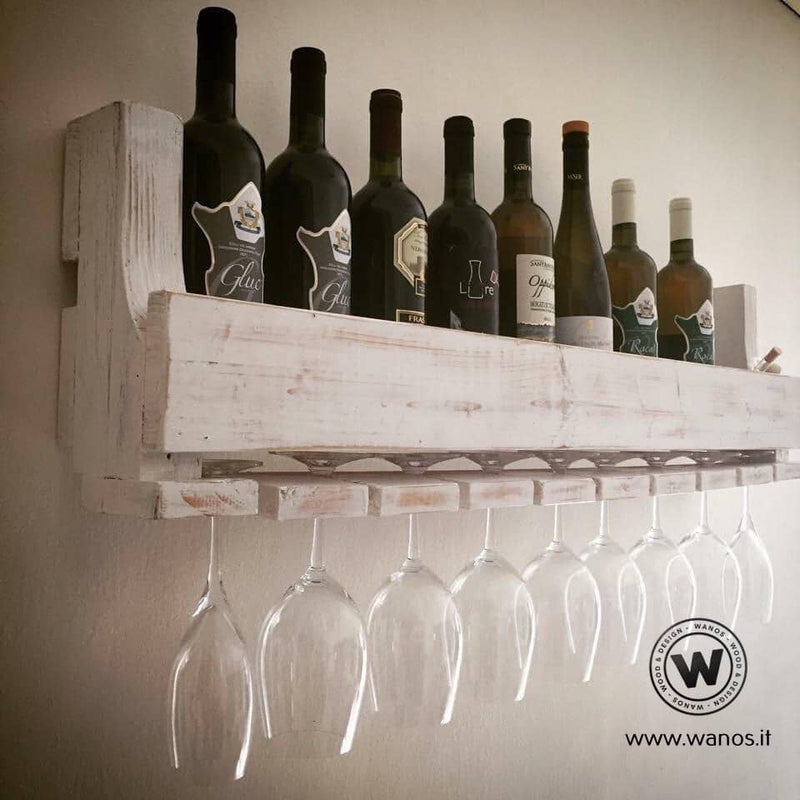 Hanging Wine solid wood wall mounted bottle holder
The pleasure of tasting a glass of wine, in the wine shop as well as at home, also passes through the furnishing accessories to keep it, our bottle holder is an excellent accessory, made from recovered wood from old farmhouses or with old pallets, which have finished their cycle of life were intended for firewood.

Conceived for private cellars or professional tasting spaces, our workhorse is a wine display with a refined design that welcomes the bottles with style and elegance, guaranteeing maximum visibility of the label, combined with the practicality of the cup holders.

We can make it in natural wood, bleached or in the color you prefer, it can occupy a very long wall or be hung in a niche, you choose how to make it.

Dedicated to those who love wood and its uniqueness.

Sizes Available:

Bottle Holder Capacity 50Lx30H Cm 5 Bottles 4 Goblets

Bottle Holder Capacity 70Lx30H Cm 7 Bottles 6 Goblets

Bottle Holder Capacity 100Lx30H Cm 10 Bottles 9 Goblets

Bottle Holder Capacity 120Lx30H Cm 12 Bottles 11 Goblets

Bottle Holder Capacity 150Lx30H Cm 15 Bottles 14 Goblets

Inside the package you will find the Fisher for correct installation.

Stand out with style and furnish your home in a unique and inimitable way by Wanos.