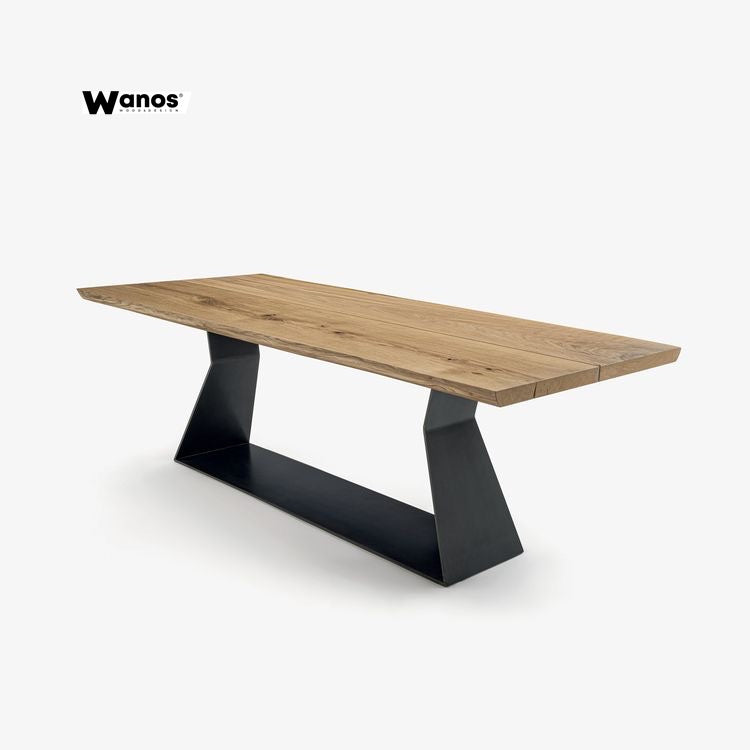 Design table in solid natural chestnut wood on a metal base with an irregular edge
Wonderful and imposing, the new table is a piece of furniture of great impact hand-built by our craftsmen.

The solid chestnut wood table is handcrafted by coupling boards seasoned for over 10 years with a thickness of 52-56mm.

A detail that makes this beautiful table unique and inimitable is its cut trunk left natural: rustic wavy edge with raw cut with exposed bark.

The large planks are coupled together creating a unique surface of its kind, the natural finish of the solid chestnut wood , gives warmth and brings to life the natural imperfections of the wood which are classified as a value for us.

It took hours of work to create a truly one-of-a-kind table able to last over time in full respect of nature, with a unique and original design.

On request it is possible to customize the color of the metal structure in any color you prefer.
The wooden top of the table has a Natural Matt finish with water repellent treatment.
The table top rests on a resistant iron structure in order to guarantee stability to the whole table.

In the package of the top, you will find the kit including the socket wrench for the correct installation of the underlying structure.

Upon request, it is possible to install side extensions of a maximum of 50 cm per side, making your table welcoming and comfortable on the most appropriate occasions.

Delivery times 20 days from the order.

Shipping is carried out by insured express courier in Italy 48H, in Europe 96H.

Stand out with style and decorate your home in a unique way by Wanos.