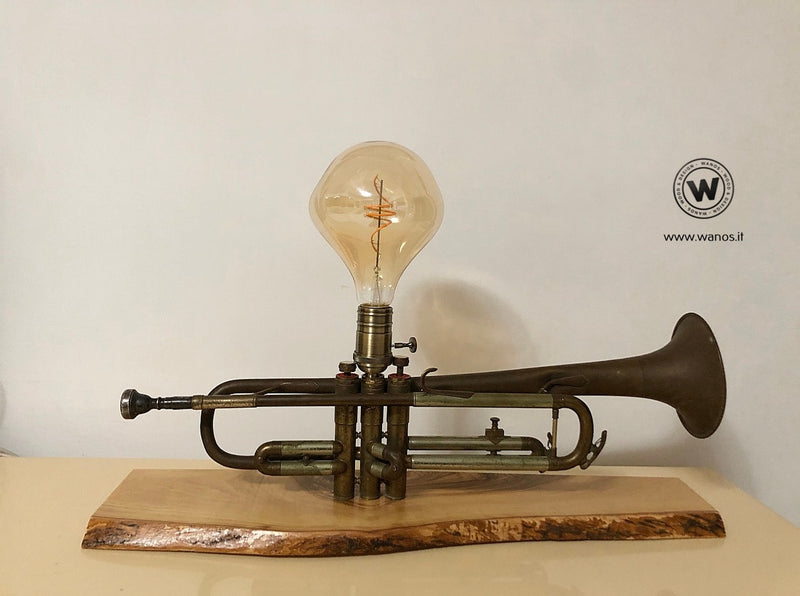 Vintage design lamp made with antique trumpet from 1945.
Single piece!

From the old comes the new is one of our main values, unusual and original materials are transformed in our hands into furnishing accessories that strike for their originality and fascinate for their liveliness.

Our creativity leads to the birth of unique pieces of alternative furniture that will make a difference by enriching every corner of your home, they will be small details that can immediately create the right atmosphere, helping you to transform an unused space into a design space.

The meeting with our products is always a sensory experience, this time we transform it into a vintage experience with a musical touch, we have recovered an old original and antique trumpet from 1945.

The 40's vintage trumpet was placed on a centuries-old olive tree base and we transformed it into a fantastic lamp on which we applied a 2 meter long cotton-coated ornamental wire while the ignition is on off thanks to the washer present on the bulb holder .

The designer LED bulb is included in the sale price.

Measures:

Height: 34cm (bulb included)

Base length: 60cm

Base width: from 7 to 15 cm

Choose a unique and rare piece by Wanos Wood&Design to furnish your home with style.