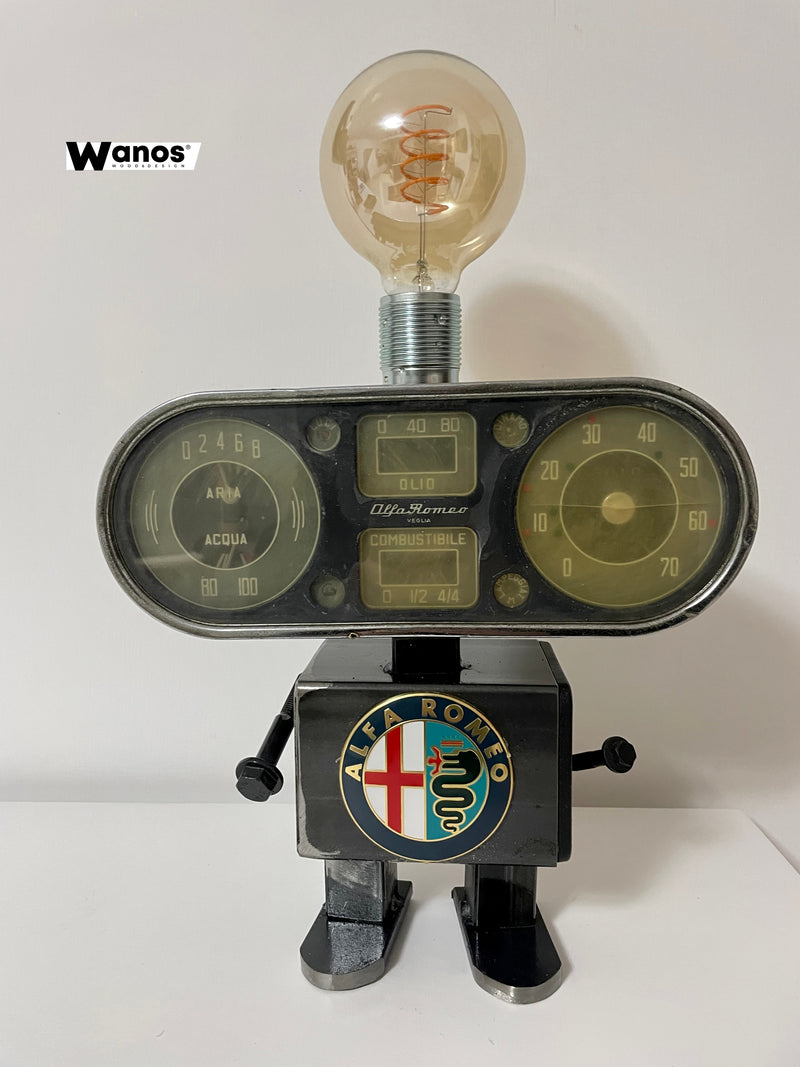 Robot Iron lamp Alfa romeo 1000 Year 1957
Risparmi il 33%
Unique and rare piece.

"From the old comes the new" is one of our main values.

Unusual and original materials are transformed in our hands into furnishing accessories that strike for their originality and fascinate for their liveliness.
The encounter with our products is always a sensory experience, this time we transform it into a vintage experience with a robotic touch.

This time we have recovered a highly sought-after original speedometer from the manufacturer " Veglia - Borletti " of an Alfa Romeo 1000 year 1957, placing it on a metal section creating a unique and rare piece of vintage furniture that stands out from the others for its " touch " ignition ".
In 1957, a new vehicle was presented at the Turin Motor Show: the Alfa Romeo 1000 or, as it is sometimes called Alfa Romeo Mille . It was an evolution of the Alfa Romeo 800 project, but conceptually it appeared very innovative. The vehicle was equipped with two axles, but on request it could also be equipped with three or four axles. Equipped with an 11,050 cm3 diesel engine, capable of delivering a power of 163 HP, the vehicle was capable of reaching a maximum speed of 60 km/h.
Production began in 1958: the driving cabs were made by Aerfer, while the chassis were produced by Oto Melara. The production of the mechanics and the final assembly, on the other hand, was carried out in the Alfa Romeo factories in Pomigliano d'Arco. However, due to the lack of interest from the manufacturer, as well as the strong competition to which the production of heavy vehicles was now subjected, in 1965 Alfa Romeo decided to stop production. Up to that point, 2,518 units had rolled off the assembly line. Furthermore, the Mille was also the basis for the Alfa Romeo Aerfer trolleybus, which circulated on Italian roads, at least in some cases, until the 1990s.
With 3 different levels of intensity, to be adjusted according to the needs of your moments, to make it more beautiful we use a 2-meter cotton-coated electric wire highlighted in the photo and a dimmable decorative bulb included.

Dimensions:
Bulb included Height 40 cm, Maximum width 25 cm.

Choose to light up in an original way with Wanos Wood&Design.