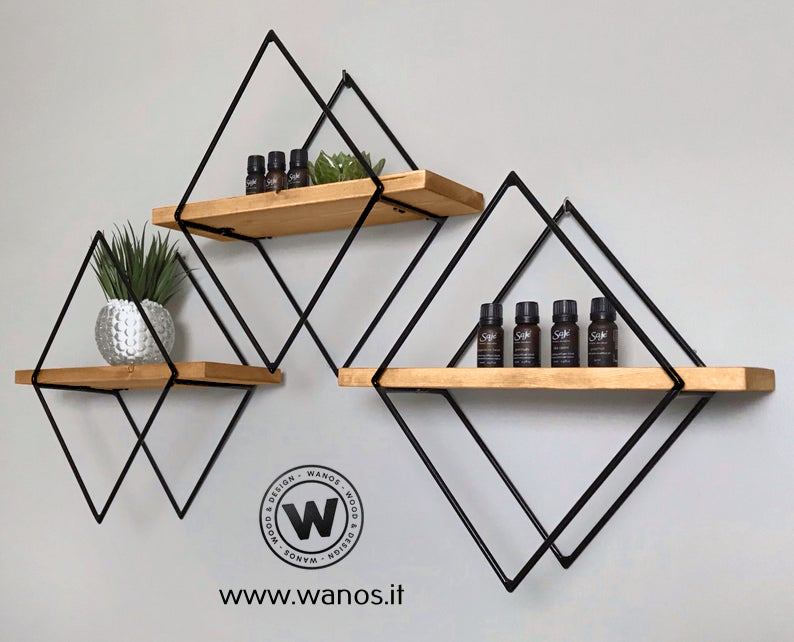 Geometric design shelf made with iron structure and solid chestnut wood shelf
The furniture of your home should reflect our being and it is precisely for this reason that the choice of every single object should be made with care to best fill the spaces scattered around the house.

Are you looking for a geometric and original shelf that is in step with the times?

We offer you this shelf with an unusual shape, a rhombus, completely handmade with an iron structure and solid wood shelves, a modern complement that will be perfect for a refined environment with an alternative design.

Leave room for the imagination to decorate this graphic shelf with travel memories, small cacti... you can choose the wood in the shade you want thanks to the drop-down menu, included in the package you will find the Fishers to install on the wall for correct assembly.
Measures :
Metal 30x30 cm, shelf length 60 cm
Metal 40x40 cm, shelf length 75 cm
Metal 50x50 cm, shelf length 90 cm
Metal 60x60 cm, shelf length 105 cm
Metal 70x70 cm, shelf length 120 cm
Metal 80x80 cm, shelf length 135 cm
Metal 90x90 cm, shelf length 150 cm
All shelves in solid chestnut wood have a thickness of 3 cm and a useful depth of 20 cm.

Production times 7-10 working days from the order.

Do you need an oversize?
No problem contact us and we will find the right solution for your needs.

Furnish your spaces with originality and choose a piece of Wanos Wood & Design.