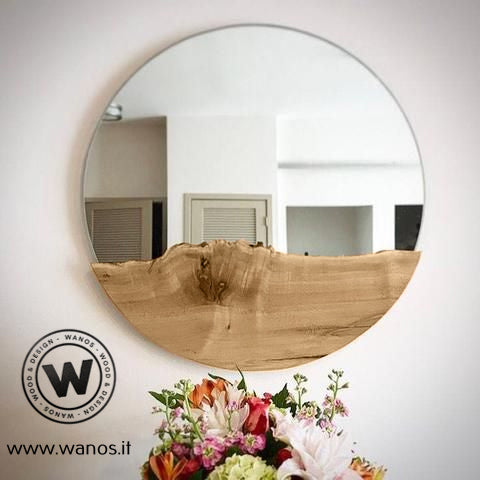 Design circular mirror with frame in debarked solid chestnut wood
The company is always looking for shapes and design solutions to highlight and furnish the rooms of the house with taste and elegance and think of wall mirrors not only as an essential function for the bathroom.

A design that stands the test of time, that molds materials to create iconic mirrors, new objects of desire. The encounter with our products is always a sensory experience.

For a simple and genuine beauty, our craftsmen have created this splendid wall mirror that will make the difference, creating a chic and elegant environment, using aged chestnut wood with its unmistakable shape, the natural finish of the solid chestnut wood has veins particular and possible cracks that will be filled with transparent epoxy resin, so as to give warmth and bring to life the natural imperfections of the wood which for us are classified as a value.

The same will be packed in a safe and accurate way, to protect it from any bumps and damages, our staff will create a wooden and industrial polystyrene box.

Guaranteed shipping within 10 working days from the order.

Mirror yourself with style and decorate your home in a unique and inimitable way by Wanos.